"Some of my earliest memories are working in my mom's art studio, making line drawings or carving wood blocks," says David Wright, founder of IDU Creative. In retrospect it seems almost inevitable that by the mid-80s he would be knocking at the doors of graphic design studios in Manhattan, looking for the right spot to start his professional career.
"The scene was very exciting at that time … Macintosh computers were changing everything," says Wright, president of IDU Creative. "Specifying type, cutting it out with an X-Acto knife and waxing it up to Bainbridge boards — that was all fading away. Now a design studio could do it all on the new Macs. Even so, it took years before technology caught up with creativity. For example, curved type designs still took hours, cutting out each letter and arranging it on a curved path."
But, as Logan Pearsall Smith said, "The test of a vocation is the love of the drudgery it involves." And David loved everything about graphic design. With this love and great enthusiasm for emerging technology, he worked as a graphic designer in midtown Manhattan design studios until the late 90s. During that time, David kept busy, helping clients meet their marketing needs, but finally the time came to go out on his own.
The launch of a graphic design studio
Wright founded IDU in 1997 as Identity Design Unlimited. The specialty was in brand design and implementation of the brand identity across many areas of communication. His first major account was Texaco, a relationship still going strong more than 20 years later. "Texaco brought me in to work on an internal newsletter, and they loved my work," says Wright. "For the next three years, they pretty much monopolized my time. It's been a very rewarding relationship, on both sides."
More major accounts followed, and today the work that Wright and his creative studio have designed can be seen around the world. Their work ranges in style from vivid creative ads to data-rich technical books, and in size from the face of a watch to the side of an oil tower. You can see samples of their work in the IDU online portfolio.
A move in the right direction
In September 2001, Wright moved his business 300 miles northwest, from metropolitan New York City to Rochester, New York. "It was a lifestyle change," says Wright. "I was born in New York City and love it there, but upstate New York is a safe and pleasant place to live. We like the easy access to nature, and there is great talent up here, too. Kodak and Xerox came out of Rochester, so there's a whole lot of high-end printing, imaging and designing capability. And with the Rochester Institute of Technology here, there is exceptional talent in the area."
20 years of quality design work
The move had a positive effect on IDU Creative. By 2017 — with their milestone 20 years as a creative agency and many thousands of design projects completed — experience had only strengthened and broadened the services their design studio offers. "Between screen sharing, file sharing, email, overnight shipping and remote conferencing," Wright continues, "distance is not an issue in client relationships. Even though we are technically a 'Rochester graphic design firm', much of our business comes from other regions. It's wonderful that the technology I loved so much for graphics and logo design back in the '80s and '90s has flowered and become more about relationships. And not just between the designer and the design, but also between the designer and the client. The freedom and ease of communication is such a beautiful thing!"
IDU Team Leaders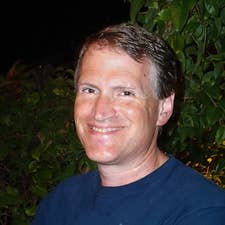 David Wright
President & founder of IDU Creative
David has been providing creative services for over 30 years. Since his start as a graphic designer in New York City, he's been helping his clients succeed by providing excellent graphic design and creative services.
David spends his spare time playing jazz guitar, hiking, skiing and traveling. He has recorded several albums, climbed the 46 High Peaks of the Adirondacks with his son and toured the Balkans with his daughter. He has recently visited mountain gorillas in Congo with his wife and celebrated his wedding anniversary atop glowing Mt. Nyiragongo, hiked to the lost Incan city of Choquequirao, and snorkeled in the Great Barrier Reef. David and his family live in the Rochester, New York area.
---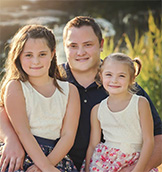 Derek Messner
Senior graphic designer
Derek has pursued his passion for design since graduating cum laude from Cazenovia College in 2003. After three-and-a-half years at the advertising agency Creative Think Tank, Derek joined IDU Creative Services in 2007.
In his free time, Derek enjoys boating in the Finger Lakes, seasonal camping on Sodus bay and everything tech. Derek lives in Fairport, New York, with his wife and two daughters.